In case you missed all of the latest updates (ack!! because I am so behind on blogging)….we have moved and we are now back in Seth's native land of Texas. We are re-acclimating back to BBQ, Tex-Mex, mosquitoes, southern accents, very erratic weather and all other Texas joys!
I know you have all heard this but just in case you haven't, this week Blue Bell ice cream was recalled again. Seriously folks, if you aren't from Texas you just don't understand. People are very worked up about this. Lucky for Blue Bell they have such loyal customers that I am pretty sure most are worked up about waiting for ice cream and there is hardly a soul ticked about the listeria. Priorities. I told Seth someone should do an independent study to see how much weight Texans lose in the absence of Blue Bell. I saw someone on Facebook who said they have never had a birthday in 35 years without it so they would postpone their celebration! Ha!
We braved a few Texas snow days and now we have moved on to  the bluebonnets!!! Here are a few pictures we snagged from a neighbor who offered mini photo sessions a few weeks ago. Our own family attempt ended abruptly with a bee sting, a screaming baby (not the bee sting victim), and a too cool for school not going to smile child. So we opted for the mini session and her results were much sweeter!  Caitlan Salerno is a great photographer for you local folks! She is super flexible and can come to you for family photos. (and she didn't pay me a penny to say that)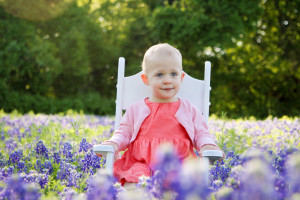 Jackson and Owen have adjusted well to their new schools and Seth has been enjoying the momentum of his new job. The boys have been busy with sports practice and MaryAnne is thriving on running the show! She is a climber and a great "helper". She is talking lots and her favorite pastime is tracking down the boys and calling "BOYS" as she heads their way. They mostly welcome her with lots of love….unless she grabs the remote. My days are spent mostly busing kids to and from school and I am getting antsy to make some friends in our new hood!
Texas is feeling more like home! The swing set is up (our marriage survived the reassembly!) and the garden is in. Now to slow down and  let some roots begin to grow.  We are trying to get out in the cooler weather now, knowing that we are no where near prepared for the heat to come.