SO all week I waffled about if this Saturday was the day to pick strawberries. We had a group that wanted to go together, the weather was iffy and I drove by and saw that lots of the strawberries were still green. So by this morning I decided with a friend that we would pop over (it's less than 10 mins from us) and pick a few and return with the group next week when the weather and fields were more promising. I am glad I didn't take everyone along because the berries weren't in their prime but I got a big bowl for the weekend and will head back.
I promised you this recipe from my friends mom, Theres! Thanks for the recipe, Theres!….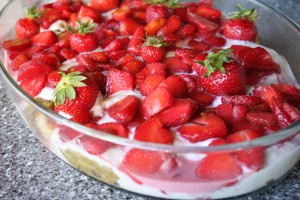 Theres' Strawberry-Rhubarb Dessert
serves 6-8 people
750g strawberries
750g rhubarb
Einback (a very fluffy white bread, similar to Zopf) or Zopf (something like challah)
250g low fat quark (what is quark in English? it's similar to joghurt, but firm, like a fresh cheese…)
500g semi fat quark
butter
sugar
syrup
Wash and slice the strawberries. Put them in a bowl and marinade in syrup for 30 min (Holundersyrup tastes best, but any berry or fruit syrup will do).
Wash rhubarb and cut in 1cm pieces. Add sugar and cook in the microwave until it's soft (10 min at full power. Instead of microwaving, you can cook the rhubarb in a pan. In that case add some water.
Slice the Einback oder Zopf (challah white bread) in 1 cm slices, enough to cover the bottom of your serving dish. Butter them, add some sugar and toast in the oven until they are light golden.
Mix both quarks, add sugar to taste.
Pour strawberries and if necessary rhubarb in a sieve/strainer
Lay the toasts in the dish, cover with a layer of rhubarb. Add a layer of quark and put strawberries on top.
Enjoy!
T.
I realized that really we don't have anything comparable to quark in the US. You can use cream cheese  whipped with sour cream and sugar I bet to get something similar.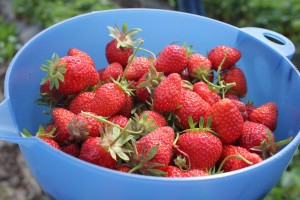 Here are some other strawberry recipes!
*Last year we made strawberry bread…like banana bread but with strawberries!   Here is the recipe we used last year.
*In Barcelona we went to the Hard Rock cafe because you know every American abroad needs a decent burger every once in a while….the point of mentioning this useless information is that I ordered a strawberry basil lemonade and it was amazing!  This Strawberry Basil Lemonade recipe isn't from hard rock cafe but I bet it's similar.
*This year I plan to work our way through some of Southern Livings suggestions for strawberries that came in the April edition. Here is the link for them online if you aren't a regular with them!  We will for sure be trying the chicken salad with strawberries, strawberry hand pies and some of the other salads!
*and of  course you can make jam! I learned last year from a friend how to can jam and also made a batch of freezer jam. If you haven't tried freezer jam give it a go! It isn't too tricky and you will feel oh so domestic each time you pull out a fresh jar of homemade strawberry jam.