For 6 months now Owen and I pack up on Wednesday morning and head to a mommy and me swim class with some friends. I wanted to do something with Owen on our morning together while Jackson was at school and I wanted it to be out of the house and away from my other distractions. I wanted him to feel like I was really focusing on him for a bit.
Our swim mornings started out with 2 little boys enjoying milk and bread together, along with their bedhead. While the mommies chat away.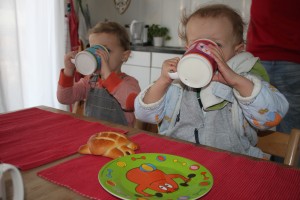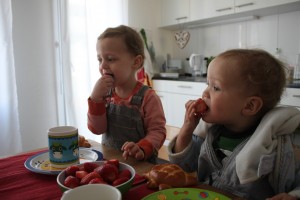 We reluctantly broke up the fun 2nd breakfast time and headed out to Heimburg about 20 minutes from us. They have a nice indoor pool and a wonderful baby class. The teacher is so creative. Miss Lisa (pronounced more like Liesel from the Sound of Music only without the "l" at the end. follow me?)  was super sweet and patient with the kids and tolerated lots of mom chatting.  Owen's favorite activity what when she would give each child a plastic watering pail and one child would hold a clear umbrella over their head while the others showered him. Each week she had something new to show them. I don't know if Owen learned a bit but he sure had fun!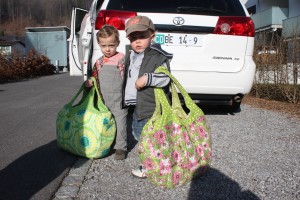 forgive the foggy lens…the pool was so warm my lens wouldn't clear…some people add these special effects! these are our steamy shots in the pool!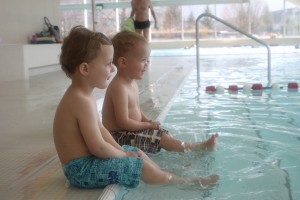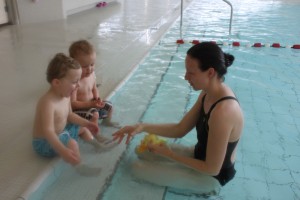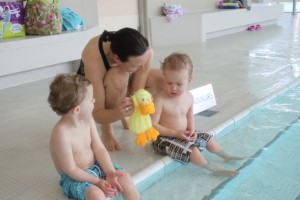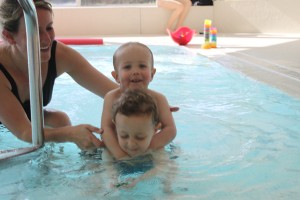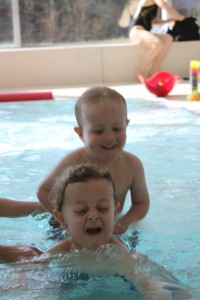 after swim class the boys would hop in and out of the lockers while we gathered our things.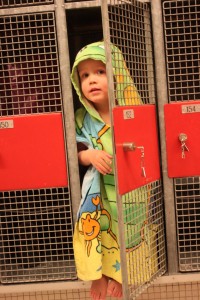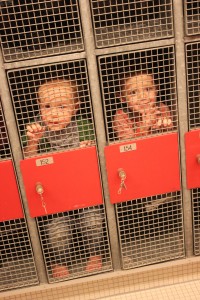 And we would round them up, walk coral them out to the car, and hope the whole way home that we could successfully keep them awake so that they wouldn't spoil their naps. Owen was very successful in thwarting my no sleep plans. he typically crashed within minutes of his snack.
Now I realize this all sounds so fun and innocent, so what could be the drama around going to swim class….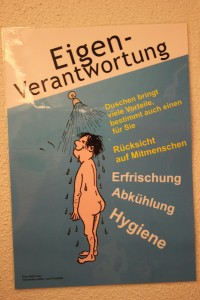 this just about sums to up! Swim class in Switzerland has been quite the cultural experience with nudity. Luckily Owen and I have found a little dressing room so I can be confident about my lack of confidence. Sheesh. My friend Nina and I giggle our way through the locker room as people very slowly shower and dress and lather lotion and dry their hair without a teeny tiny glimmer of feeling immodest. Now I am not talking about the typical American locker room experience where you turn your back, change your clothes quickly but make every effort to almost stay clothes while you maneuver the switch. You know where everyone is completely aware of everyone changing but no one looking and chatting. I am talking about people chatting and talking and taking their time….no one's back turned!  I oscillate between feeling like it's totally crazy and really kind of refreshing that people appear to have healthy self images and don't feel like they have to be perfect to be seen. The refreshing part has yet to infuse confidence into me but I can see how it might be a good thing. for them! As I slipped my shoes off most weeks Owen stood wide eyed and mouth open as these women young and old got dressed. He had never seen such a sight. I decided that no matter how much Jackson would love a swim class as well it just was not worth it here. Not worth the risk of being sent out of Switzerland because my 4 year old could just not filter such an experience!!
read more