The boys are cuddled on the couch listening to a Curious George audio and thawing from our snowy time. Now don't be deceived, the morning hasn't all been this peaceful. Oh, and now it isn't again. Owen has pressed his strong-willed little self between me and the keyboard.  We'll see how this works.
Let me describe our morning for you before I share some happy snow pictures. As Seth was getting ready this morning he commented on how the boys behavior has improved dramatically.  I couldn't agree entirely after our Monday.  I said something like "buckle up buddy, I try not to make those proclamations so early in the morning, it tends to jinx us". When I came out to the kitchen the boys were already at it. Jackson wanted to blue bowl that Owen had and on and on. After breakfast I popped in Sesame Street sharing video and what do you suppose they did while watching it? they fought over toys. We finished up, played and had snack time which went pretty well. It's our first really snowy day, and although my inner voice was screaming "curl up with a book and hot choki and a cozy quilt"  the good mommy voice fought me with "take your kids outside already". SO we proceeded to spend the next 30 plus minutes gearing up for snow play. We stepped out, I snapped a few pictures, Owen pulled off his gloves screaming, and in flew a little bird. As in, during Owen's commotion a little bird tried to find refuge in our house since his outside peace was clearly gone. I let the boys play a few minutes outside and shoveled the walkway just to not cancel out all of the work of gearing up. And then we spent the rest of the morning getting the little guy out. He was beautiful but he pooped on everything he landed on. Computer, lamp shades, toys. And somehow I am laughing about it. (this may be coming before a good cry)
Did I mention Owen is still waking up in the night?! And that I really need him to. Not want him to. NEED him to. I am so tired and so grumpy. Oh yea, and we are waiting for a response on an offer we put on a house. So stress levels are high and bird poop is widespread.

Both boys are now at my ankles, Curious George has been halted because they started fighting over holding the book and the page got torn. Off to a pb&j lunch.
Thankful for beautiful snow, a warm house, friends around the globe, leftovers so I don't have to cook tonight, a niece on the way any day and  pb&j. Wait, I think that rhymes.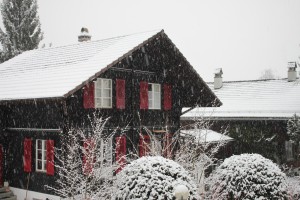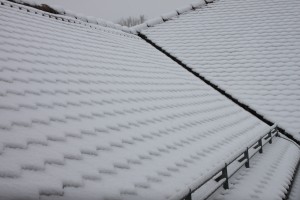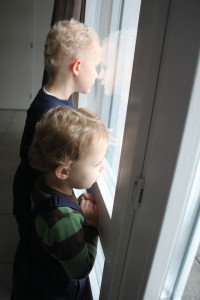 so forlorn waiting on mommy to say it's go time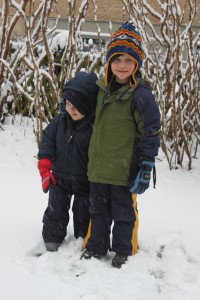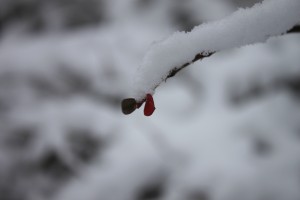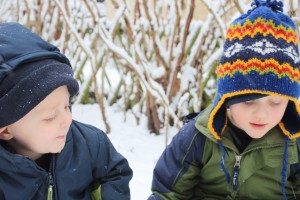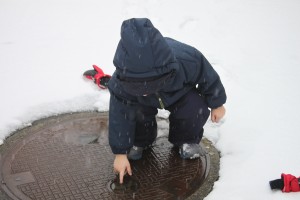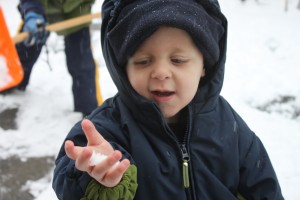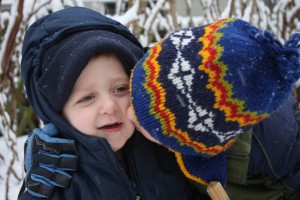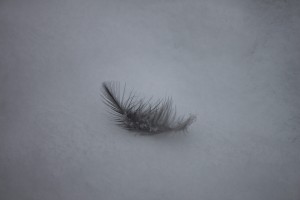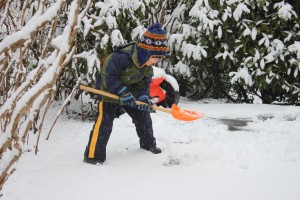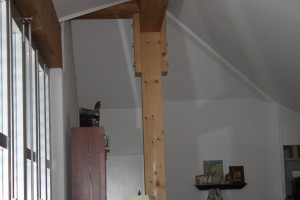 see the bird perched on the book shelf? not a great picture but you get the idea!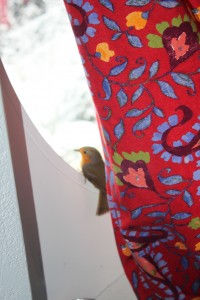 my father-in-law may have to read the blog today to tell us what kind of bird we hosted today!
read more