Last week was Jackson's first week at a new school and his first time in real preschool. He was loving the English Speaking Playgroup but we were seeing a need for Jackson to be in a setting with some more structure (i.e. learning) and work on more specific areas like fine motor, etc that he will need when he goes to kindergarten. And after looking at some programs I love that Feusi offers a classroom with a span of ages so that Jackson has some older kids modeling for him.  He is in the English class and then has lunch with the German speaking children as well. I have absolutely no confidence that he will learn German more than a few words but that isn't our goal. Many Foreign Service parents pride themselves in how many languages their children speak. Not me. We roll with it and I refuse to put them under stress for their resume to be beefed up. Jackson learned Spanish when he needed to and I am positive when there is a need he will learn whatever languages come along. Enough said about that.
Anyhow, back to the first day. He did beautifully. He settled right in with maybe a shedding of 2, that's one two, tears. And by the time I picked him up he was wanting to take the time to personally say goodbye to everyone he had met. That's my boy. Yesterday Seth took him for the first time and he enjoyed every minute of their grown up commute together. His favorite part of the morning from what I can tell is that after lunch they all brush their teeth. He got to get a new toothbrush to keep at school so he is feeling super cool being a dual toothbrush boy.
And now I officially have less than a year to begin preparing myself for his first day of kindergarten. I won't lie and tell you that I can't imagine a day at home without my kids. I love my time with my kids and I love the times when my kids are being taken care of by loving, capable adults other than myself.  But I am positive that I will cry when I say goodbye as kindergarten starts. Owen and I will certainly go through withdrawals at home without him and I know I will eagerly wait for the school day to end so I can pester him with questions. It's just not right how quickly they grow.
Here is our preschooler on the first day at Feusi…in an outfit he insisted on picking by the way, red trim socks and all.  You win some, you lose some.  If he was excited enough to pick his clothes I figured he really didn't need a polo and khaki shorts!!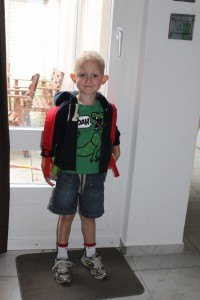 a
read more